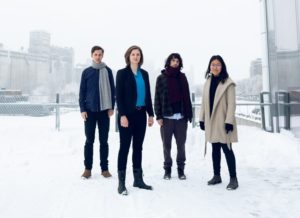 Montreal's Claire Devlin and her quartet will be appearing at BuckingJam Palace on Saturday, March 21st 8pm. Claire and her band will be touring Western Canada this March to promote her new album.
Formed in 2016, the Claire Devlin Quartet comprises four of Canada's most exciting new voices in jazz. Hailing from across the country, the group met while studying music at McGill University in Montreal. Since, they have performed their music throughout central Canada. Adventurous yet lyrical, Devlin's strong compositional voice unites this group of talented improvisors into a cohesive unit. Each musician plays with a selfless dedication to Devlin's weaving melodies and intricate rhythms. The group is excited to announce the imminent release of their first full length studio album, due out in March 2020.
Featuring:
Claire Devlin – Tenor Saxophone
Roman Munoz – Guitar
Summer Kodama – Bass
John Buck – Drums
This concert is currently sold out (!) however please consider signing up through the Eventbrite page or contacting Lisa Buck through the BuckingJam website and ask to be put on the waitlist as last minute tickets often come up.
Please consider signing up for the mailing list so you don't miss out on future concerts such as this one!