I hope this note finds you happy and well! The new year is well underway and I want to share with you a look back over past year's events and a look forward to where BJP is headed.
BJP had its AGM on February 22nd and we said good-bye to three retiring board members:  Steven Gallant, Emily Buck and Richelle Wiseman.  So much gratitude goes out to these folks for their hard work.  Incoming board members are Janice Woodward, AJ Benoit and Graham Frampton, all of whom bring deep experience and enthusiasm and will be invaluable in stewarding BJP— along with continuing board members Jodi Lucas, Tiro Clarke, Céline Peterson and Lisa Buck— through in its next stages of growth. 
BJP worked hard during the pandemic to develop projects that employed artists, from the Canada Council underwriting the making of our documentary, Change the Tune, to FACTOR supporting educational webinars and concert recordings and Calgary Arts Development supporting the creation of our animated video, Toones. Our programming efforts put tens of thousands of dollars into the hands of musicians at a time when they needed it most.
We are back to hosting a full season of ten to fourteen concerts from October to June and are almost completely booked to the end of June 2024. This is both great and challenging. I get many, many more requests from outstanding musicians that we can possibly handle. The number of affordable music venues in Calgary with a backline was minuscule pre-pandemic and it is dire now. We run a very lean operation at BJP and prioritize paying musicians well: rising costs for insurance, food (we feed all the groups who play here) and software mean that even with a sold-out crowd, we can fall short of breaking even. So, how to plan for the future?
First, we need administrative help. I have been a volunteer Executive Director since 2015, along with working as Artistic Director. As BJP's reputation has grown, so has the work load and it is too much for one person. Now that we have charitable status, we will be looking to expand our operational and programming capacity by building a donor program—we are registered for tax-receipted donations through Canada Helps—and applying for operational grants.
Second, we want to explore the possibility of holding additional concerts in a venue outside of the house. The demand is there and we'd like to create the capacity to meet it. I am participating in a Creative Spaces Mentoring program organised by Calgary Arts Development and ArtsBuild Ontario that is aimed at helping arts organizations find affordable spaces. To continue to host the top-tier musicians we currently book, BJP needs a venue that includes a backline with a PA system, a drum kit and a grand piano. Our vision is to collaborate with other music organizations who have the same needs to establish a music venue we could all share. It's a long-term goal but one that is important to work towards.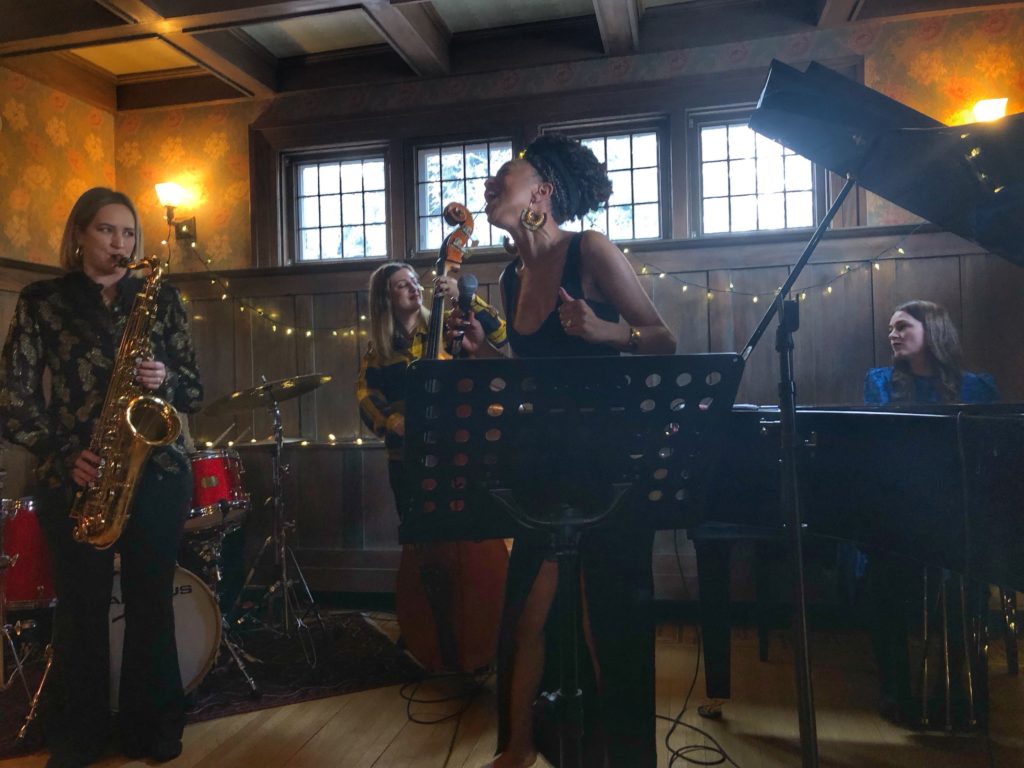 At the start of 2023, we collaborated with Women Band Directors International to host a sold-out concert featuring Christine and Ingrid Jensen as part of a Girls in Jazz weekend that saw ninety-three registrants; and we collaborated with the United States Consulate General to host a private concert with the Caili O'Doherty Quintet for guests from Calgary's Black Chamber of Concert in honour of Black History Month. Both those groups would like to continue collaborating. In January, Tom and I had the privilege of welcoming Janna Sailor, conductor of the all-female Allegra Chamber Orchestra, to our house for three days of rehearsals and recordings with IndigiDivas, a group of five, Indigenous female concert vocalists. All these projects prioritize gender parity, inclusion and diversity in music, work that is vitally important and a key focus for our Foundation. Many of you will know that this is also a cause I feel passionate about and I am delighted to say that the all-female ensemble that I manage, The Ostara Project, has been nominated for a JUNO in the category of Vocal Jazz Group of the Year.
So, so much good stuff happening and the challenge is to keep it happening. I often shake my head that what started out as a family initiative to provide grass-roots support to the local music community has grown into a venue known and beloved throughout Canada and beyond, run by a charitable foundation, and attracting top-tier talent from across North America. What a journey!
Thank you all for being a vital part of what we do. Attending concerts, donating time and money and expertise, loading the dishwasher and folding chairs and sending notes of encouragement and appreciation: this is what has built a community that I feel absolutely privileged to be part of. So many lovely artists in our future and so much good music to look forward to. Upward and onward!
Lisa Buck