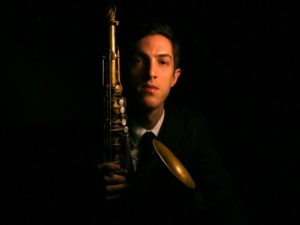 New York tenor saxophonist Sam Taylor appears at BuckingJam Palace on Saturday, January 25th (8pm) featuring the crack rhythm section team of Peter Van Nostrand on drums and Paul Sikivie on bass.
This concert is currently sold out (!) however please consider contacting Lisa Buck through the website and request to be put on the waitlist as last minute tickets do often come up.
Furthermore, please consider signing up for the BuckingJam Palace mailing list so you don't miss out on future opportunities to hear amazing groups such as this (tickets often sell-out quickly!)
Sam was also nice enough to take time out of his busy schedule to answer a few questions about his music and upcoming performance in Calgary:
1) How would you describe the style of Jazz music you are bringing to Calgary?
My goal is to play music that feels good, to always swing hard and "play pretty". I do my best to embrace the spirit of my heroes and play in a way that honors them. For this tour, I will be playing trio with two incredible musicians: bassist Paul Sikivie and drummer Pete Van Nostrand. Saxophone trio really is my favorite format, and it is always such a thrill to play with Paul and Pete. I can't wait to share that feeling with your jazz fans at BuckingJam.
2) Who are some of your influences?
The music of Sonny Rollins, especially his trio recordings have been and always will be the Rosetta Stone. My other saxophone heroes include Larry McKenna, Coleman Hawkins, Charlie Parker and Dexter Gordon. I also especially love and continue to learn the most from vocalists: Abbey Lincoln, Frank Sinatra, Billie Holiday, Shirley Horn, Sam Cooke, Barbara Streisand. They all have this incredible charisma, something that pulls you in from the very first notee.
3) How might you describe your relationship with tenor saxophonist Larry McKenna, who is joining you for this performance?
Larry's music has been a part of my life almost since I first learned to put the saxophone together. My first teacher  made a cassette tape for me to learn from: one side had Charlie Parker and the other had Larry McKenna. That gives you an idea how important and special his music is for me. As a person, he is just as his music sounds: open, generous, joyful with a dash of good humor! It is an incredible honor to share the bandstand with him and call him my friend.
I am so sorry he will not be able to join us this time, (he's under strict doctor's orders not to travel). We are all wishing him well and a speedy recovery. I will do my best to carry his joyful spirit with me and make him proud!
4) What are some of the lessons you've learned from the many masters of this music you've performed and studied with?
Having a beat and having a sound above all else. That's really what strikes me about the masters. Larry McKenna is a perfect example - have you ever heard such an incredible sound, such natural swing and melody?! It is not so much what they are playing, but how they deliver it, their message, the story. They "make the music fly" as my friend and teacher, Taro Okamoto puts it.
5) What advice do you have for young, aspiring Jazz musicians?
Take the music seriously, but don't forget about the joy it brings you and your audience. Isn't that what made you choose a life of music in the first place? This is supposed to be fun!
In terms of developing the craft: listen, listen, listen! Do as much as you can to develop your ear. Play along with recordings, transcribe solos, go to sessions and try to learn the song on the fly. Be open to situations that may be uncomfortable - you are sure to come away having learned something!