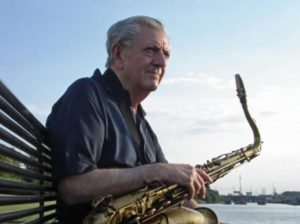 Sam Taylor and his quartet will be appearing at BuckingJam Palace on Saturday, January 25th (8pm). Appearing with Taylor will be the legendary Larry McKenna on tenor saxophone
Larry McKenna is one of the world's finest jazz saxophone players. He is known for his gorgeous, velvety sound, the unparalleled beauty of his balladry, and his fluid, bebop-inspired improvisations. For years, Larry's status as a jazz great has been affirmed by his myriad fans and the jazz stars with whom he has played and recorded including Woody Herman, Clark Terry, Buddy DeFranco, Tony Bennett, Rosemary Clooney and Frank Sinatra.
Larry also is one of the most sought-out saxophone and jazz theory teachers in Philadelphia. He has taught countless students at University of the Arts, Temple University School of Music, West Chester University, Widener University, and Community College of Philadelphia. Many of his students have pursued successful careers in music. Larry's influence, spanning decades, can be said to have established a Larry McKenna school of saxophone playing in the Philadelphia region.
In addition to being a frequent guest on recordings by other top jazz players, Larry has released three CDs under his own name to widespread critical acclaim. His most recent CD, "Profile" (Dreambox Media 2009), mixes jazz standards with Larry's original compositions, including the lovely and poignant ballad "Perhaps This Wintertime" with lyrics by Melissa Gilstrap, premiered by vocalist Nancy Reed. His earlier CDs, "It Might As Well Be Spring" (Dreambox Media 2001) and "My Shining Hour – Music of Harold Arlen" (EPE Records 1995), received praise from jazz critics across the United States and Canada and remain in demand.
Music arranged by Larry McKenna has been performed on "The Tonight Show" with Johnny Carson and in the Nicholas Cage movie "Birdy," in which Larry played and appeared. He has published many jazz-oriented arrangements for school concert bands which can be purchased from Northeastern Music Publications.
Larry resides in Philadelphia, Pennsylvania with four cats (the feline variety).
Larry McKenna appears with the Sam Taylor Quartet at BuckingJam Palace on Saturday, January 25th at 8pm.
For ticket information please visit www.buckingjampalace.com or the EventBrite ticket page.