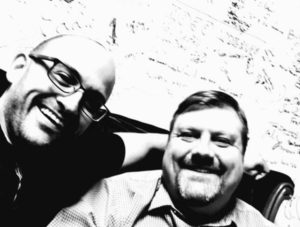 Toronto pianist Adrean Farrugia and New York tenor saxophonist Joel Frahm will be appearing as a duo on Saturday, January 19th, 2020 at BuckingJam Palace for two shows (2pm & 8pm).
These two world-class musicians will be stopping in Calgary while touring Western Canada, performing music from their duet recording Blued Dharma.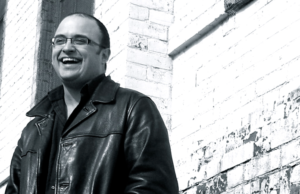 Adrean Farrugia
Award winning pianist and composer Adrean Farrugia is one of Canada's most distinct voices on the piano.
Since the late 1990s Adrean has been in high demand as a freelance performer and educator. Keeping a busy touring schedule, mainly as a sideman, Adrean has toured extensively across Canada and the United States as well as in venues across Europe, Australia, the UK, Israel and in Japan.
Adrean has performed/recorded with some of jazz's greatest and most diverse artists including: Ernie Watts, Adam Nussbaum, Larry Carlton, Curtis Fuller, Tom Scott, Bob Brookmeyer, Randy Brecker, Eric Alexander, Cyrille Aimee, Molly Johnson, Jane Bunnett, Ron Blake, Joel Frahm, Matt Penman, Dafnis Prieto, Kinan Azmeh, Brad Goode, Kenny Wheeler, Darcy James Argue, Don Thompson, Lorne Lofsky, Kevin Turcotte, and Pat Labarbera.
Adrean currently performs/has performed with such diverse projects as saxophone legend Ernie Watts' Band, the Matt Dusk Band, the Brad Goode Group (featuring Ernie Watts and Adam Nussbaum), The Ernesto Cervini group Turboprop (featuring saxophonist Joel Frahm), The Johnny Griffith Quintet, Heather Bambrick, Marito Marques, Violinist Drew Jurecka, Kiki Misumi, Tim Shia's 'The Worst Pop Band Ever', the Bob Brough Quartet, Avery Raquel, and the Darcy Hepner Big Band. Adrean also works regularly with his wife, vocalist Sophia Perlman.
As a leader Adrean has released four albums. His second album Ricochet was nominated for a 2011 Juno award for best contemporary jazz recording. As a composer Adrean has penned more than 30 works to date.
Adrean is currently on the faculty of Mohawk College where he teaches contemporary piano, ensembles and improvisation. He has also served on the faculties of York University and Humber College. He has also done workshops/clinics at the University of Colorado, University of Toronto, The University of Western Ontario, The Banff Centre for the arts, The Sydney and Brisbane Conservatories, and in Warsaw, Poland as part of the Polish Jazz Society's 35th annual Summer Jazz Workshop.
Adrean has been a contributing writer to piano guru Larry Fine's publication "The Piano Book", the world's foremost publication on all things piano. Adrean has also been a performer and panelist at the 63rd, 67th, 69th and 70th annual Conference on World Affairs in Boulder Colorado.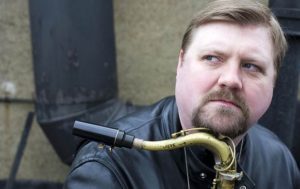 Joel Frahm
Born in Racine, WI in 1969, Frahm attended the Mason Gross School for the Arts and earned his B.A. in Jazz Performance at Manhattan School of Music. He released three highly regarded CDs on Palmetto: The Navigator, Don't Explain (with Brad Mehldau), and Sorry No Decaf. Don't Explain, his latest, was the number one jazz release for radio play in the United States for two consecutive weeks in 2004, according to jazzweek.com airplay chart and also reached number one on college radio for one week, according to College Music Journal's airplay chart. Joel was also recently selected in DownBeat Magazine's Critics Poll as a Rising Star in the category of tenor saxophone.
Joel Frahm's release, We Used to Dance, places him in the company of master musicians Kenny Barron (piano), Rufus Reid (bass), and Victor Lewis (drums). Frahm more than holds his own in showing both the chops and lyricism that has made him an irreplaceable part of so many sessions in his two decades on the jazz scene.
Surrounded by jazz legends, Frahm makes this recording a true coming out party for his maturing artistry. It is his most ambitious CD to date, featuring six of his original compositions that come to life in beautiful and variegated ways in the hands of this remarkable band. It was an honor and a watershed experience to make this record with these incredible musicians he says.
Having made a name for himself through his associations with singer Jane Monheit and boyhood friend, pianist Brad Mehldau, Frahm hones his own voice on this breakout recording. Joel has also worked with a vast array of musical peers and jazz legends including Maynard Ferguson, Betty Carter, Matt Wilson, Larry Goldings, Dewey Redman, Lee Konitz, Kurt Rosenwinkel, Andrew Hill, Ben Allison, Pat Martino, Ingrid Jensen, Dena Derose, the Vanguard Jazz Orchestra, Kyle Eastwood and many others.
===================
For ticket information please visit the BuckingJam Eventbrite page:
https://www.eventbrite.ca/e/adrean-farrugia-and-joel-frahm-tickets-76604192201 (2pm matinee)
https://www.eventbrite.ca/e/an-evening-with-adrean-farrugia-and-joel-frahm-tickets-77314001259 (8pm evening show)
* Please note that both of these shows are already currently close to sold out!*
**To get up-to-date and current ticket information and concert announcements, make sure to sign up for the BuckingJam Palace e.mail list!**