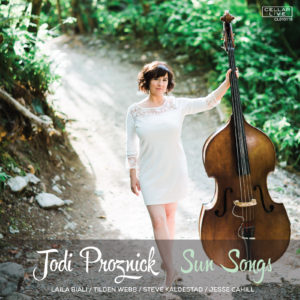 Vancouver bassist and composer Jodi Proznick offers some personal insight into her original composition "Let Go", from her album Sun Songs (which, incidentally, won her a recent Western Canadian Music Award for "Jazz Artist of the Year"!)
Also, check out this feature with Proznick from the Vancouver Courier about the inspiration and process behind her music.
Jodi Proznick and her quintet perform music from her album Sun Songs on Friday, November 1st 8pm at BuckingJam Palace!
*If tickets for an event are sold out, make sure to email through the website anyways and request to be put on the waitlist. Often tickets will come up at the last minute due to last minute cancellations.*
**You can also put yourself on the waitlist through the Eventbrite listing. Each waitlist entry represents one ticket so you need to enter your information twice if you want two tickets. There is always someone who can't make it at the last minute and we do our very best to accommodate anyone who wants to be here!**
***Also, remember to sign up for the email list as tickets for these unique events frequently sell out quickly. Don't miss out on these amazing opportunities!***