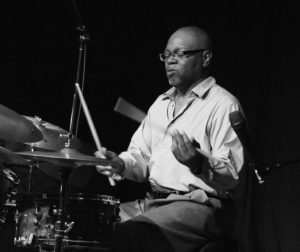 Lewis Nash, one of the world's greatest Jazz drummers, will be joining Vancouver tenor saxophonist Mike Allen and bassist Peter Washington at BuckingJam Palace for two intimate shows on Sunday, October 20th (2pm & 8pm).
Regular followers of the Calgary Jazz scene might recall the last time that Nash performed in Calgary, at the Jack Singer Concert Hall in 2013, with the Monterey Jazz Festival On Tour. This was truly an amazing concert that also featured the likes of Benny Green on piano, Christian McBride on bass, Chris Potter on tenor saxophone, Ambrose Akinmisure on trumpet and vocalist DeeDee Bridgewater!
Now you can have the rare opportunity to see this Master percussionist play up close and personal! (you'd otherwise have to travel to New York City to see him play in a small venue such as this...)
Lewis Nash has played and recorded with the greatest Jazz musicians in the world. His unique drumming style combines a sensitive touch with percussive artistry and his drumming has been in constant demand for the past 30+ years as a sideman to the world's greatest Jazz musicians.
Check out his bio for a glimpse into the career of this accomplished Jazz artist:
"Rhythm Is My Business" is the title of his debut recording as a leader, and rhythm is a booming business as far as Lewis Nash is concerned. He is the drummer of choice for an incredible array of artists - from the masters of the music to the hottest young players of today - and is equally in demand as a clinician and educator.
Born in Phoenix, Arizona, Lewis developed an early interest in music and began playing drums at age 10. By age 18, he was performing with local jazz groups. By the time he was 21, Nash had become the "first call" jazz drummer in Phoenix, working with Sonny Stitt, Art Pepper, Red Garland, Lee Konitz, Barney Kessell and Slide Hampton during their engagements in the city.
In 1981, Nash moved to New York City and joined the trio of the great jazz vocalist Betty Carter. For nearly four years, he toured internationally with Ms. Carter. He is featured on three of her recordings, including the Grammy winning "Look What I Got."
World-renowned bassist Ron Carter hired Nash in 1984. As a member Carter´s nonet, quintet and quartet, Nash toured extensively and is featured on several of the bassist´s recordings.
In the fall of 1986, saxophonist Branford Marsalis asked Lewis to join his quartet. That active association spanned two years and several continents, and is documented on Marsalis´ Grammy nominated recording "Random Abstract", as well as two videos: Royal Garden Blues (directed by Spike Lee) and "Branford Marsalis - Steep".
1988 marked the return to the jazz scene of trombone master J.J. Johnson. Johnson frequently asked Lewis to provide rhythm duties for his band. That same year, Nash joined the Don Pullen/George Adams quartet, succeeding the late Dannie Richmond. 1989 proved to be an even busier year for Lewis, touring with legendary saxophonist Sonny Rollins. He also performed with Stan Getz, Art Farmer, Clark Terry and Milt Jackson.
From 1990 to 2000, Lewis was a member of the Tommy Flanagan Trio, and is featured on seven CD recordings with the late piano master. During this period, Nash also toured and recorded with both the Carnegie Hall Jazz Band and the Lincoln Center Jazz Orchestra. His impressive discography (over 300 recordings) includes projects with jazz legends Dizzy Gillespie, Oscar Peterson, Benny Carter, Hank Jones and John Lewis, as well as new jazz stars Diana Krall, Joe Lovano and Roy Hargrove. Demonstrating his stylistic diversity, Nash is also featured on recordings by Natalie Cole, Bette Midler, Nancy Wilson, Kenny Rankin, Melissa Manchester and George Michael.
Currently, while he continues to perform and record with a wide variety of artists, Nash leads several of his own exciting groups, from duo to septet. His lectures, clinics and workshops are as much in demand as his bandstand and studio work. 
Lewis Nash is currently the Bob and Gretchen Ravenscroft Professor of Practice in Jazz at the Arizona State University School of Music and is the drummer of choice for an incredible array of artists – from jazz masters to the hottest young players of today – and is equally in demand as a clinician and educator. His career spans over 30 years and includes performance on 10 Grammy award-winning albums and an impressive discography of more than 400 recordings with jazz legends such as Betty Carter, Tommy Flanagan, Dizzy Gillespie, Oscar Peterson, McCoy Tyner, Hank Jones, Joe Henderson, Sonny Rollins, Ron Carter and Clark Terry, as well as such contemporary jazz artists as Branford Marsalis, Wynton Marsalis, Diana Krall, Joe Lovano and Roy Hargrove. Nash has become a highly sought after jazz educator and is sponsored by Sakae drums, Zildjian cymbals, Remo drumheads and Vic Firth drumsticks.
Nash is noted for his adaptability to a vast array of genres, as evidenced by his performances with such different musicians as Tommy Flanagan and Don Pullen. Nash has made five recordings as bandleader: Rhythm is My Business (1989), It Don't Mean a Thing (2003 Japanese import) and Stompin' at the Savoy (2005 Japanese import), Lewis Nash and the Bebop All-Stars featuring Frank Wess (2008 Japanese Import), and The Highest Mountain (2012). In 2008, Nash became part of The Blue Note 7, a septet formed that year in honor of the 70th anniversary of Blue Note Records.
Lewis Nash: Rhythm is indeed his business!
Oh yes, before I forget, Lewis Nash is also one of the greatest BRUSH players on the planet! Check out this video and let's hope that he doesn't forget his brushes on October 20th!
Lewis Nash will be appearing with Vancouver's Mike Allen and bassist Peter Washington at BuckingJam Palace on Sunday, October 20th.
The 2pm show is currently sold-out BUT there are a handful of tickets available for the 8pm show. Visit the BuckingJam EventBrite page and reserve your ticket asap before they sell-out!
https://www.eventbrite.ca/e/an-evening-with-mike-allen-peter-washington-and-lewis-nash-tickets-65568153111