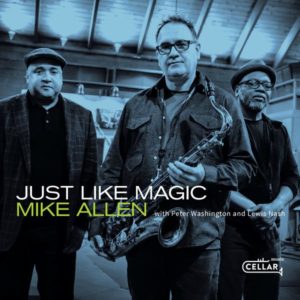 Vancouver tenor saxophonist Mike Allen brings his all-star trio to BuckingJam Palace on Sunday, October 20th for two special shows at 2pm and 8pm.
Following the release of his latest album on Cellar Live, "Just Like Magic" features Allen's powerful and lyrical tenor sound with contemporary jazz masters Lewis Nash on drums and Peter Washington on bass.
Mike Allen recently performed in Calgary last spring at the King Eddy, performing the music of Canadian jazz guitar legend Sonny Greenwich along with his Vancouver quartet. For this special performance happening this coming October, Allen brings two of the world's busiest and most prolific jazz drum and bass teams of Lewis Nash and Peter Washington to BJP for a rare local performance.
DO NOT MISS THIS INCREDIBLE OPPORTUNITY TO HEAR THIS AMAZING TRIO!!!
For ticket information, please visit: www.buckingjampalace.com
And remember, don't wait as tickets are limited and sell-out quickly!
(however, if a show is sold-out, please e.mail Lisa Buck asap so she can put you on the wait-list)
Here's a clip that follows Allen and this special band in the studio:
And here is some individual biographical information on these outstanding musicians: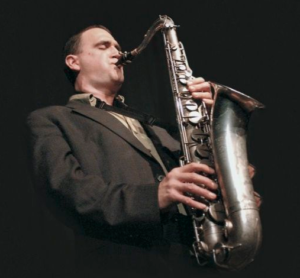 Mike Allen - Tenor Saxophone
Doug Fischer, jazz columnist for the Ottawa Citizen, calls the Vancouver-based saxophonist, pianist and composer "the country's top jazz saxophonist" in a recent review in which his seventh album Love One Another was chosen "#1 Canadian Jazz Album of 2005". Jazz Journal International refers to Mike as "an accomplished musician who has studied Coltrane in depth and forged a style that is fresh and vital"
. Mike Allen is profiled in Miller Companion to Jazz in Canada and earned a Master's In Jazz from New York University and is currently the Director of Jazz Studies at Western Washington University. He has 
worked with internationally recognized players including Cedar Walton, Julian Priester, Kenny Wheeler, Peter Leitch, Gary Bartz, Jim Snidero, Brian Lynch, Chuck Israels, Donald Bailey, Ali Jackson, Seamus Blake, and Pete Magadini. Mike was a member of Canadian guitar legend Sonny Greenwich's band from 1990 to 1995. His playing is featured on Greenwich's Standard Idioms (Kleo) and Fragments Of A Memory (Cornerstone).
In 1993, Canada's national newspaper, The Globe and Mail listed Mike as one of a half-dozen "Interesting Canadians To Watch". These days he performs primarily in the Pacific Northwest and is regularly featured on regional and national CBC and NPR radio broadcasts. Fearless, Allen's 2004 release was chosen by Public Radio International jazz host Jim Wilke, as one of the "Best Pacific Northwest Jazz CDs of 2004", while his 2003 trio album Dialectic won "Outstanding Jazz Recording 2003" at the Western Canadian Music Awards. Mike has received prestigious Arts Council grants over the years to study with tenor giants Joe Henderson, Joe Lovano and Dave Liebman. In the tradition of his musical mentors, Mike's groups perform original and classic jazz repertoire with a focus on lyricism, swing and cohesive group interaction.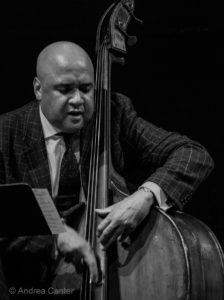 Peter Washington - Bass
Perhaps the most recorded bassist of his generation, Peter Washington has also played an integral part in two of the most important and highly praised jazz trios of the last 20 years, in addition to a who's who roster of jazz artists.
Born in Los Angeles, California, in 1964, Washington attended the University of California, Berkeley, where he majored in English Literature and played in both the UC Symphony and the San Francisco Youth Symphony. In 1986, while performing in San Francisco with alto saxophonist John Handy, he was asked by Art Blakey to move to New York and join the seminal Art Blakey's Jazz Messengers.
Washington remained with the Jazz Messengers from 1986 to 1989, and during this time was able to establish himself as a ubiquitous, first- call freelance bassist; a position he has occupied to this day.
In the early 1990's Washington joined the Tommy Flanagan Trio , called by many the greatest trio in jazz, and remained until Flanagan's death, in 2002. For the past ten years he has been a member of the very highly acclaimed Bill Charlap Trio.
In addition to these long- term commitments Washington has worked and recorded with an extremely large number of top- tier artists, of all generations. A partial list of those he has recorded and performed live with would include Dizzy Gillespie, Benny Golson. Freddie Hubbard, Donald Byrd, Benny Carter, Hank Jones, Milt Jackson, Bobby Hutcherson, Kenny Burrell, Phil Woods, Cedar Walton, Joe Henderson, Ray Bryant, Frank Wess, Clark Terry, Lionel Hampton, Charles McPherson, Jimmy Heath, Percy Heath, Jimmy Cobb, Louis Hayes, the Newport All Stars, the Carnegie Hall Jazz Band, Gerald Wilson,Lou Donaldson, Barry Harris, Lew Tabakin, Sweets Edison, Johnny Griffin, Jackie McLean, Sir Simon Rattle and the Birmingham Symphony, Richard Wyands, Teddy Edwards, Johnny Coles and Frank Morgan. And of the younger generations, Washington has recorded and performed with Mulgrew Miller, Tom Harrell, the Brecker Brothers, Don Grolnick, David Sanchez, Eric Alexander, Benny Green, Javon Jackson, Brian Lynch, David Hazeltine, One For All, Steve Nelson, James Carter, Renee Rosnes, Steve Turre, Regina Carter, Kenny Washington, Grant Stewart, Robin Eubanks, Joe Magnarelli, Geoff Keezer, Billy Drummond, Jeremy Pelt, Ryan Kisor, Walt Weiskopf, and many, many others.
Peter Washington has also enjoyed associtions with vocalists as diverse as Andy Bey, Freddie Cole, Karrin Allyson, Chris Conner, Mark Murphy, Georgie Fame, Ernie Andrews, Paula West, Eric Comstock, Ann Hampton Calloway, Marlena Shaw, and Ernestine Anderson.
A complete discography would list, as of this writing, over 350 recordings, and is expanded on a weekly and monthly basis.
In the scope and breadth of his career thus far, his adaptability, and in his emphasis on creative, supportive, swiging time- playing as well as inventive and intelligent soloing, Washington has been compared to the likes of George Duvivier, Milt Hinton, and Ron Carter.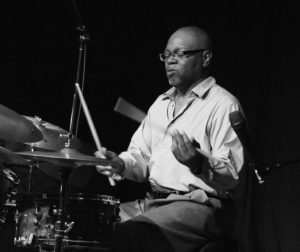 Lewis Nash - Drums
"Rhythm Is My Business" is the title of his debut recording as a leader, and rhythm is a booming business as far as Lewis Nash is concerned. He is the drummer of choice for an incredible array of artists - from the masters of the music to the hottest young players of today - and is equally in demand as a clinician and educator.
Born in Phoenix, Arizona, Lewis developed an early interest in music and began playing drums at age 10. By age 18, he was performing with local jazz groups. By the time he was 21, Nash had become the "first call" jazz drummer in Phoenix, working with Sonny Stitt, Art Pepper, Red Garland, Lee Konitz, Barney Kessell and Slide Hampton during their engagements in the city.
In 1981, Nash moved to New York City and joined the trio of the great jazz vocalist Betty Carter. For nearly four years, he toured internationally with Ms. Carter. He is featured on three of her recordings, including the Grammy winning "Look What I Got."
World-renowned bassist Ron Carter hired Nash in 1984. As a member Carter´s nonet, quintet and quartet, Nash toured extensively and is featured on several of the bassist´s recordings.
In the fall of 1986, saxophonist Branford Marsalis asked Lewis to join his quartet. That active association spanned two years and several continents, and is documented on Marsalis´ Grammy nominated recording "Random Abstract", as well as two videos: Royal Garden Blues (directed by Spike Lee) and "Branford Marsalis - Steep".
1988 marked the return to the jazz scene of trombone master J.J. Johnson. Johnson frequently asked Lewis to provide rhythm duties for his band. That same year, Nash joined the Don Pullen/George Adams quartet, succeeding the late Dannie Richmond. 1989 proved to be an even busier year for Lewis, touring with legendary saxophonist Sonny Rollins. He also performed with Stan Getz, Art Farmer, Clark Terry and Milt Jackson.
From 1990 to 2000, Lewis was a member of the Tommy Flanagan Trio, and is featured on seven CD recordings with the late piano master. During this period, Nash also toured and recorded with both the Carnegie Hall Jazz Band and the Lincoln Center Jazz Orchestra. His impressive discography (over 300 recordings) includes projects with jazz legends Dizzy Gillespie, Oscar Peterson, Benny Carter, Hank Jones and John Lewis, as well as new jazz stars Diana Krall, Joe Lovano and Roy Hargrove. Demonstrating his stylistic diversity, Nash is also featured on recordings by Natalie Cole, Bette Midler, Nancy Wilson, Kenny Rankin, Melissa Manchester and George Michael.
Currently, while he continues to perform and record with a wide variety of artists, Nash leads several of his own exciting groups, from duo to septet. Outside of his many touring and recording accomplishments, thanks to the sponsorship of Sonor drums, Zildjian cymbals, Remo drumheads and Regal Tip drumsticks, Lewis has become a sought after jazz educator. His lectures, clinics and workshops are as much in demand as his bandstand and studio work. Lewis Nash: Rhythm is indeed his business!