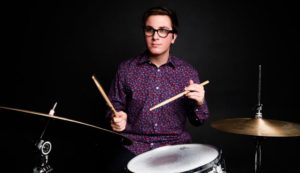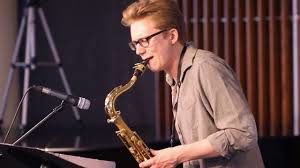 Harry Vetro (drums) and Harrison Argatoff (tenor saxophone) join forces with Canadian Jazz legends Mike Murley on tenor saxophone and bassist Steve Wallace for a performance at BuckingJam Palace on Thursday, February 20th 2020 (8pm).
Tickets are almost sold out (!) so don't delay and reserve your tickets now! For ticket information, please visit the BuckingJam Palace website or the Eventbrite ticket page.
Learn more about this dynamic band which will surely deliver a world-class performance at www.harrison2music.com
Both Vetro and Argatoff were kind enough to take time out of their busy schedules to answer a few questions about their music and upcoming tour, featuring music from their new release (along with Mike Murley and Steve Wallace) entitled Trout in Swimwear.
1) How would you describe the style of Jazz music you are bringing to Calgary?
Harrison² is a chordless quartet, featuring two tenor saxophones, bass, and drums. We play mostly classic jazz repertoire, with our performances focused on soloistic improvisation. Harmonically, this instrumentation demands a clear observation of each song's form, while also allowing for a high degree of freedom. With Mike Murley and Steve Wallace, two of Canada's most renowned jazz musicians, our playing has a distinct Canadian sound while representing a combination of two different musical generations. Playing with this band feels exciting, adventurous, and demanding!
2) Who are some of your influences? (as a drummer/saxophonist, composer and overall musician)
Vetro: My favorite drummers include Elvin Jones, Tony Williams, Philly Joe Jones and Paul Motian, especially Paul's playing with Bill Evans and Scott LaFaro. I love those CD's. When I hear Paul play, every note counts. My favorite modern drummers are Marcus Gilmore, Tyshawn Sorey, and Dan Weiss. Those guys have such a mastery on the kit. When you see / hear them play, you can tell they've spent time with the instrument exploring the multitude of possibilities. Lately, I've been checking out their compositions, especially Tyshawn Sorey's work. I attended his Columbia University composers' concert in New York in 2019. His string compositions were very interesting and inspiring.  My compositional influences aren't really in the vain of what Harrison Squared is doing. I've written some music in the classic jazz vain. I'll share it someday!
My greatest influence is nature. I try to spend as much time outdoors writing down ideas for later development.
Argatoff: I suspect that most elements of my life have been influential to me as a musician, from my upbringing in rural BC, to my diet, to my favorite novels. As a saxophonist, I am an admirer of Sonny Rollins. I find the energy behind his music and his time-feel to be particularly striking. Compositionally, I admire the music of John Hollenbeck. I find his distinct sound and orchestrational expertise inspiring.
3) How might you describe your relationship with tenor saxophonist Harrison Argatoff and veteran Canadian Jazz artists Mike Murley and Steve Wallace, who are joining you for this performance?
Vetro: Harrison and I attended the University of Toronto Jazz program together from 2014 to 2018. We've been good friends since around second year university. We started out sessioning in the practice rooms at UofT in our spare time and developed a fun musical relationship. He played on my debut album Northern Ranger. We've toured across Canada. Made an underground rap album together. We've also toured with a dance company together performing choreographed movements as well as music. He's an inspiring person!
I've always been a fan of Steve Wallace through the Mike Murley, Ed Bickert, Steve Wallace trio records. I took an in between year at York University in 2013, and caught him for the first time at a performance with the Mark Eisenman trio. It wasn't until my third year at UofT where I had the chance to meet and play with Steve. Nick Fraser, my former drum teacher was going on tour and subbed out a lesson to Steve. We brought Harrison Argatoff in to play some jazz standards and all felt an immediate musical connection.
Mike Murley was my first ensemble coach at UofT and taught my second-year improv class. It was always a dream of mine to share the bandstand with Mike. He's a Canadian jazz legend! I remember being in first year and asking Chase Sanborn "when can I start playing with faculty?" and he told me to wait a couple of years. I finally got to play with Mike during Harrison Squared's first show at the Rex in my fourth year (2018). That was my first time booking the Rex Hotel. It's a dream to be able to tour with these guys now.
4) What are some of the music and life lessons you've learned over the course of your UofT studies and from playing with Mike Murley and Steve Wallace?
Argatoff: The lessons I learned at UofT were wide reaching. The experience was like taking off progressively wider sets of blinders, as I was consistently offered new perspectives. I entered my degree with the sole expectation of becoming a proficient jazz musician, but instead exited with a mind full of questions and the fundamental tools needed to start seeking my answers.
Playing with Murley and Wallace is inspiring. I am constantly humbled by their instrumental expertise, deep knowledge of jazz music, and unique and rooted time-feels. I find it challenging, however, to pick out any specific lessons. It feels instead like parts of their musicianship are shared, little by little, when we play together.
5) What are you practicing and working on these days?
Vetro: I'm always working on the 26 American Rudiments, making sure my hands remain relaxed. Also always trying to achieve an evenness between my two hands.
Lately, I've been working on heel up bass drum. Using stick control to develop this. My friend hipped me to Colin Bailey's Bass Drum Control book. There are some interesting exercises in there where you remove the spring from the bass drum pedal and play the exercises with the rebound from the bass drum head. I'm also working a lot on soloing over forms these days, and developing solo language. During my UofT years, I spent most of my time trying to achieve a good time feel with the ride. Now it's time to get my soloing together...During my practice sessions, I'll spend some time improvising at the kit, and when I find something I can't do, I'll put it on a list of "things to work on" and process the heck out of it. There are a lot of things on that list and it keeps growing!
6) What advice do you have for other young, aspiring Canadian Jazz musicians?
Vetro: Listen. Be open to all types of music and go see live shows as often as you can. Start playing the music. If you're having trouble finding musicians to play with, then play along with records. I've been checking out this Roy Hargrove trio record called "Parkers Mood" with Christian McBride on Bass, no drums. Started playing along and recording myself, assessing my ride cymbal. Man, what a way to develop your time feel and imitate what it's like to be on the bandstand.
Also, seek out people to play with. At the end of grade 12, I didn't have any "live" jazz playing experience, but I wanted to play so badly. My Mother asked me to hire a jazz trio for her art show and I put out an ad at the University. Some students responded and I put a trio together. I recorded the audio and started submitting to bars and restaurants all across the GTA. Within a couple of months, I was opening for the Young/Promane Octet in Waterloo. That definitely assisted me in getting into U of T!
Also, find a teacher who plays on the jazz scene. Never stop being curious. There's always something new to discover.