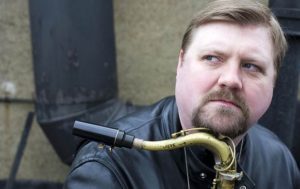 New York  tenor saxophonist Joel Frahm will be joining Canadian pianist Adrean Farrugia at BuckingJam Palace on Sunday, January 19th, 2020 at 8pm for a concert of intimate piano/saxophone duets. Juno award winner Adrean Farrugia has played on over forty albums including four as a leader. He first met New York saxophonist Joel Frahm in 1990 and a creative musical connection was formed that lead to the release of their 2018 duo album, Blued Dharma. Joel Frahm is recognized as one of the finest contemporary jazz saxophone players on the scene today.
Born in Racine, WI in 1969, Frahm attended the Mason Gross School for the Arts and earned his B.A. in Jazz Performance at Manhattan School of Music. He released three highly regarded CDs on Palmetto: The Navigator, Don't Explain (with Brad Mehldau), and Sorry No Decaf. Don't Explain, his latest, was the number one jazz release for radio play in the United States for two consecutive weeks in 2004, according to jazzweek.com airplay chart and also reached number one on college radio for one week, according to College Music Journal's airplay chart. Joel was also recently selected in DownBeat Magazine's Critics Poll as a Rising Star in the category of tenor saxophone.
Joel Frahm's release, We Used to Dance, places him in the company of master musicians Kenny Barron (piano), Rufus Reid (bass), and Victor Lewis (drums). Frahm more than holds his own in showing both the chops and lyricism that has made him an irreplaceable part of so many sessions in his two decades on the jazz scene.
Surrounded by jazz legends, Frahm makes this recording a true coming out party for his maturing artistry. It is his most ambitious CD to date, featuring six of his original compositions that come to life in beautiful and variegated ways in the hands of this remarkable band. "It was an honour and a watershed experience to make this record with these incredible musicians" says Frahm.
Having made a name for himself through his associations with singer Jane Monheit and boyhood friend, pianist Brad Mehldau, Frahm hones his own voice on this breakout recording. Joel has also worked with a vast array of musical peers and jazz legends including Maynard Ferguson, Betty Carter, Matt Wilson, Larry Goldings, Dewey Redman, Lee Konitz, Kurt Rosenwinkel, Andrew Hill, Ben Allison, Pat Martino, Ingrid Jensen, Dena Derose, the Vanguard Jazz Orchestra, Kyle Eastwood and many others.
Here's a compilation featuring some examples of Frahms explosive and dynamic saxophone style:
For concert information please visit the BuckingJam website or follow the Eventbrite link for ticket information:
https://www.eventbrite.ca/e/an-evening-with-adrean-farrugia-and-joel-frahm-tickets-77314001259