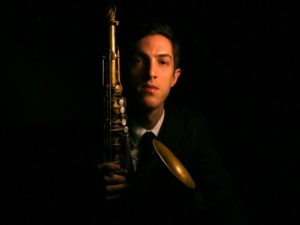 "Patiently and lovingly devotes himself to the song…Nothing but rapt attention to the song, to melody, to the way a great artist can make us feel" – Michael Steinman, Jazz Lives
Hailed by All About Jazz as "wise beyond his years" and "remarkable" by Toronto Music Report, Philadelphia native, New York-based saxophonist Sam Taylor brings one of his heroes, saxophone legend, Larry McKenna, to BuckingJam Palace on January 25, 2020. Philadelphia tenor saxophonist Larry McKenna has played with Rosemary Clooney, Frank Sinatra, Tony Bennett, and countless others. Sam Taylor released his second album, Along The Way, featuring Larry McKenna in November 2017. Joining them are two top tier New York musicians: Grammy Award winning bassist Paul Sikivie and drummer Pete Van Nostrand.
Featuring:
Sam Taylor – tenor saxophone
Larry McKenna – tenor saxophone
Paul Sikivie - bass
Pete van Nostrand - drums
For ticket information please visit www.buckingjampalace.com or the BJP eventbrite page.
Sam Taylor's true jazz education began during his three years at Philadelphia's High School for Creative and Performing Arts. Immersed in the deep tradition of Philadelphia's jazz community, Taylor studied and performed with Chris Farr, Matt Levy, and Len Murphy. Dedication and love for music extended into the summer months, where he participated in distinguished programs: The Tanglewood Institute, Berklee College of Music Summer Jazz Workshop, The School for Improvisational Music, and Pennsylvania Governor's School for the Arts. After receiving The Dennis Sandole Foundation Jazz Award, publishing in The Philadelphia Inquirer, and performing with exclusive ensembles in all major venues of Philadelphia, Sam left at the age of seventeen for New York City.
In 2001 Sam began his studies at Purchase College State University of New York. The next four years proved crucial to Sam's development, with classroom and bandstand mentoring from Todd Coolman, Ralph Lalama, Jon Faddis, Javon Jackson, Pete Malinverni and John Riley. Quickly recognized for his talent and dedication, Taylor was given an opportunity to perform in Groningen, Holland as a guest soloist with the The Noord-Nederlands Conservatorium Symphonic Jazz Orchestra. Other performance highlights included an awards ceremony for Dave Brubeck at The National Arts Club, premiering his compositions with Jon Faddis at the Central Presbyterian Church of New York City, and performing in an eightieth birthday celebration for James Moody at The Performing Arts Center. This performance with James Moody was particularly exciting, playing to a packed theatre with saxophone legends Jimmy Heath, Frank Wess, Joe Lovano, Steve Wilson, Mark Turner and Ralph Lalama.
Since graduating in 2005 with a Bachelor of Music, Cum Laude, Sam has become an active member of the New York City jazz community. Featuring his own projects and collaborations, he has performed at numerous venues including Smalls Jazz Club, The National Arts Club, Cornelia Street Cafe, Fat Cat, and Webster Hall. Taylor can be found playing throughout the week at steady engagements in Hamilton Heights, Harlem and Midtown Manhattan. In addition to his busy performance schedule, Taylor also serves as artistic director for The West Harlem Jazz Festival
Taylor's debut recording, My Future Just Passed, (released on Cellar Live, August 2015) was hailed by the Toronto Music Report as a "remarkable release", with All About Jazz describing his playing as "wise beyond his years". It features the masterful Taro Okamoto on drums along with bassist Aidan O'Donnell.
Along The Way, Taylor's second album was released on Cellar Live, November 2017 featuring saxophone legend, Larry McKenna along with a top tier New York rhythm section: Jeb Patton, piano; Neal Miner, bass; Pete Van Nostrand, drums. In celebration of the release, Taylor performed along side Larry McKenna for two nights at The TD Vancouver International Jazz Festival 2018.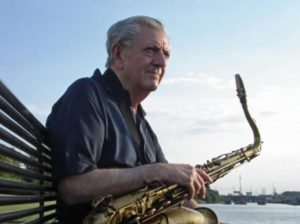 Larry McKenna is one of the world's finest jazz saxophone players. He is known for his gorgeous, velvety sound, the unparalleled beauty of his balladry, and his fluid, bebop-inspired improvisations. For years, Larry's status as a jazz great has been affirmed by his myriad fans and the jazz stars with whom he has played and recorded including Woody Herman, Clark Terry, Buddy DeFranco, Tony Bennett, Rosemary Clooney and Frank Sinatra.
Larry also is one of the most sought-out saxophone and jazz theory teachers in Philadelphia. He has taught countless students at University of the Arts, Temple University School of Music, West Chester University, Widener University, and Community College of Philadelphia. Many of his students have pursued successful careers in music. Larry's influence, spanning decades, can be said to have established a Larry McKenna school of saxophone playing in the Philadelphia region.
In addition to being a frequent guest on recordings by other top jazz players, Larry has released three CDs under his own name to widespread critical acclaim. His most recent CD, "Profile" (Dreambox Media 2009), mixes jazz standards with Larry's original compositions, including the lovely and poignant ballad "Perhaps This Wintertime" with lyrics by Melissa Gilstrap, premiered by vocalist Nancy Reed. His earlier CDs, "It Might As Well Be Spring" (Dreambox Media 2001) and "My Shining Hour – Music of Harold Arlen" (EPE Records 1995), received praise from jazz critics across the United States and Canada and remain in demand.
Music arranged by Larry McKenna has been performed on "The Tonight Show" with Johnny Carson and in the Nicholas Cage movie "Birdy," in which Larry played and appeared. He has published many jazz-oriented arrangements for school concert bands which can be purchased from Northeastern Music Publications.
Larry resides in Philadelphia, Pennsylvania with four cats (the feline variety).