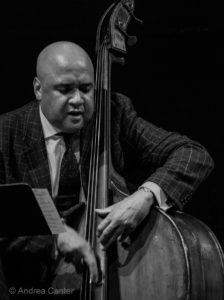 Mike Allen's "Just Like Magic" trio will be performing two shows at BuckingJam Palace on Sunday, October 20th (2pm and 8pm). Backing up the accomplished Vancouver-based tenor saxophonist Mike Allen will be renowned drummer Lewis Nash and bassist Peter Washington.
Tickets are moving fast for these two shows so don't wait, get your tickets now before they sell out! Find full ticket information at www.buckingjampalace.com
Peter Washington is one of the most-recorded Jazz bassists in current times, his CV reads like a "who's who" of Jazz greats that he's played and performed with, and his appearance in Calgary represents a rare occasion to see and hear this Master Jazz musician up close.
Here's a video of Peter Washington playing an intimate bass-piano duet at New York's Mezzrow  Jazz club featuring Washington on bass along with Mike LeDonne on piano (ed. note: LeDonne will also be performing at BuckingJam Palace on October 5th with his own group, The Groovers Quartet!)
Peter Washington – Bass
Perhaps the most recorded bassist of his generation, Peter Washington has also played an integral part in two of the most important and highly praised jazz trios of the last 20 years, in addition to a who's who roster of jazz artists.
Born in Los Angeles, California, in 1964, Washington attended the University of California, Berkeley, where he majored in English Literature and played in both the UC Symphony and the San Francisco Youth Symphony. In 1986, while performing in San Francisco with alto saxophonist John Handy, he was asked by Art Blakey to move to New York and join the seminal Art Blakey's Jazz Messengers.
Washington remained with the Jazz Messengers from 1986 to 1989, and during this time was able to establish himself as a ubiquitous, first- call freelance bassist; a position he has occupied to this day.
In the early 1990's Washington joined the Tommy Flanagan Trio , called by many the greatest trio in jazz, and remained until Flanagan's death, in 2002. For the past ten years he has been a member of the very highly acclaimed Bill Charlap Trio.
In addition to these long- term commitments Washington has worked and recorded with an extremely large number of top- tier artists, of all generations. A partial list of those he has recorded and performed live with would include Dizzy Gillespie, Benny Golson. Freddie Hubbard, Donald Byrd, Benny Carter, Hank Jones, Milt Jackson, Bobby Hutcherson, Kenny Burrell, Phil Woods, Cedar Walton, Joe Henderson, Ray Bryant, Frank Wess, Clark Terry, Lionel Hampton, Charles McPherson, Jimmy Heath, Percy Heath, Jimmy Cobb, Louis Hayes, the Newport All Stars, the Carnegie Hall Jazz Band, Gerald Wilson,Lou Donaldson, Barry Harris, Lew Tabakin, Sweets Edison, Johnny Griffin, Jackie McLean, Sir Simon Rattle and the Birmingham Symphony, Richard Wyands, Teddy Edwards, Johnny Coles and Frank Morgan. And of the younger generations, Washington has recorded and performed with Mulgrew Miller, Tom Harrell, the Brecker Brothers, Don Grolnick, David Sanchez, Eric Alexander, Benny Green, Javon Jackson, Brian Lynch, David Hazeltine, One For All, Steve Nelson, James Carter, Renee Rosnes, Steve Turre, Regina Carter, Kenny Washington, Grant Stewart, Robin Eubanks, Joe Magnarelli, Geoff Keezer, Billy Drummond, Jeremy Pelt, Ryan Kisor, Walt Weiskopf, and many, many others.
Peter Washington has also enjoyed associtions with vocalists as diverse as Andy Bey, Freddie Cole, Karrin Allyson, Chris Conner, Mark Murphy, Georgie Fame, Ernie Andrews, Paula West, Eric Comstock, Ann Hampton Calloway, Marlena Shaw, and Ernestine Anderson.
A complete discography would list, as of this writing, over 350 recordings, and is expanded on a weekly and monthly basis.
In the scope and breadth of his career thus far, his adaptability, and in his emphasis on creative, supportive, swiging time- playing as well as inventive and intelligent soloing, Washington has been compared to the likes of George Duvivier, Milt Hinton, and Ron Carter.