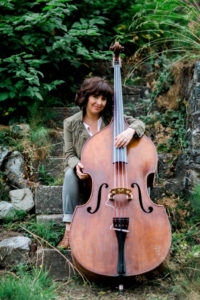 BuckingJam Palace Presents: The Jodi Proznick Webinar Series
Part Three: Famous Canadian Jazz Couples – Partnerships on and off the Bandstand
Sunday, December 6th
This webinar will feature several notable Canadian personal and musical jazz collaborations featuring the likes of Tara Davidson and William Carn, Jennifer Scott and Rene Worst, Min and Josh Ranger, Nancy Walker and Kieran Overs, Laila Biali and Ben Wittman, Bill Coon and Jill Townsend, Rebecca Hennessy and Michael Herring and more!
---
We are absolutely thrilled to announce our upcoming webinar with Juno-nominated bassist and educator Jodi Proznick!
The third part of her four-part series will take place on Sunday, December 6th at 3pm MST via Zoom.
*All webinars run 3-430pm MST*
The cost is $20 per webinar. Please purchase tickets via our Eventbrite page.
The link will take you to the ticket price for the entire series, but if you scroll down you can find tickets for the individual events as well.
We recognize that these are tough times. If the ticket price is a barrier to you joining us, please email us at: buckingjampalace@gmail.com.
Happy learning and we can't wait to see you online soon!